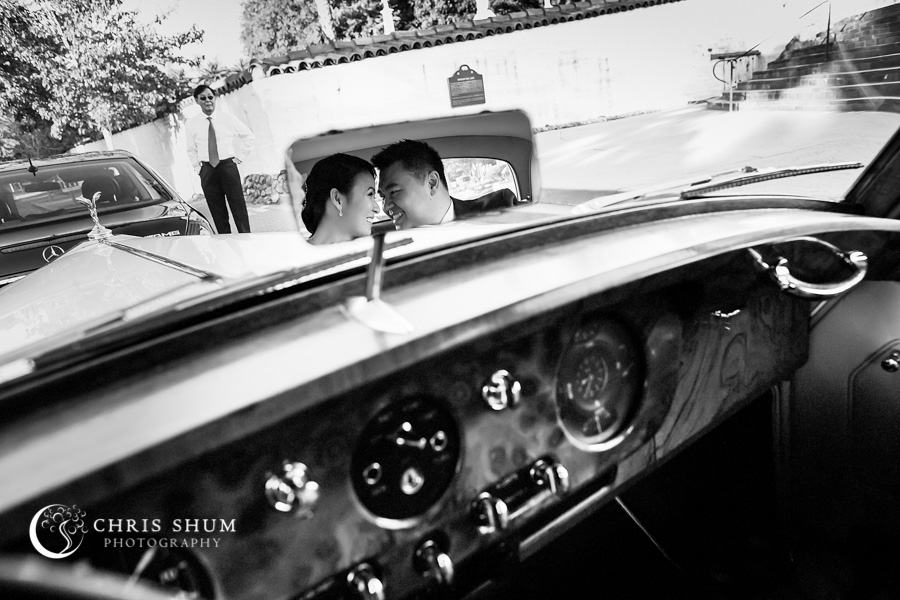 How I wish I were there to capture the most romantic proposal for Benny and Agnes! When Benny decided to propose to Agnes, he hired some gardeners to make a big heart shape on the lawn of his property, and he picked the First day of Spring to propose, signifying a new chapter, a new start. Benny's so sentimental and touching proposal totally melt Agnes and she gave the nod!
So I was well-prepared to capture lots of sweet moments of this romantic groom and his lovely bride on their wedding day. The couple looked gorgeous and they literally glowed with happiness and love!
Agnes and Benny made their appearance for the ceremony at the Mission San Jose, a classic and historic Spanish mission, in a classy white Rolls Royce. Shooting a wedding in a mission is always both delightful yet challenging - the richly decorated interior with the vintage feel is so appealing and yet there are lots of restrictions set by the mission, especially where the photographers could go or move. But we were experienced to handle that!
The celebration continued into the night at the elegant Blackhawk Automotive Museum, another classy venue for the glamorous couple! Everyone at the party enjoyed so much with great food, dances and beautiful cars around them.
Best wishes to the couple and wishing them the most wonderful ride of their journey together!
A big thank you to our talented Joseph Tan for second shooting this classy wedding with me!
And here's Agnes and Benny's sweet engagement session in SF!