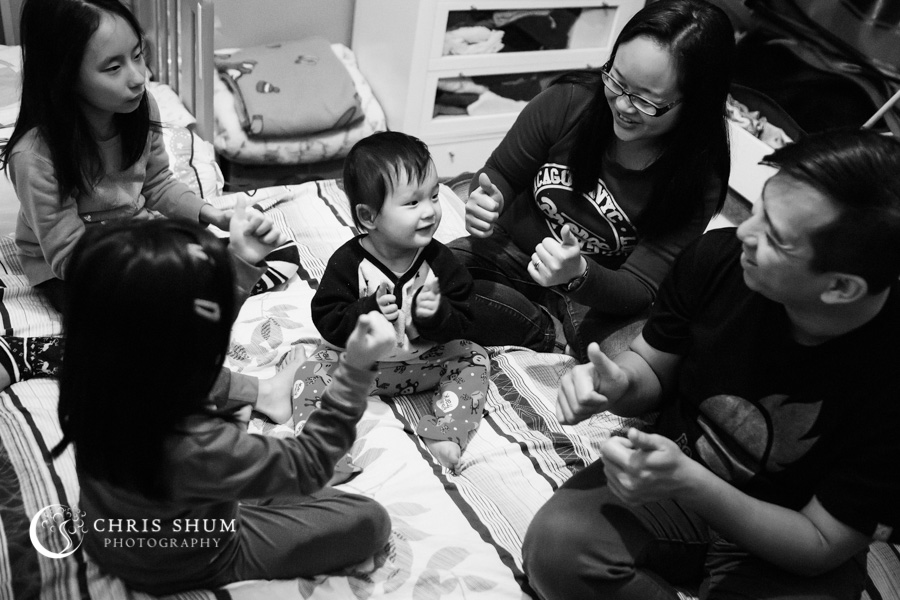 A Day in the Life of the Cheng Family, Hong Kong
I came to know Connie and Philip many years ago when Connie came to Berkeley to visit my sister-in-law, who were best friends since elementary school. Thereafter, I'd hear about Connie and Philip occasionally - from wanting a kid really badly, to the adoption of Abby, their first kid, to having their bio kid, Ellie. And when I learned they were going to adopt Caleb, the blood-related brother to Abby, the couple's courage truly fascinated me. It happened I was about to start another personal project, and I contacted Connie and Philip to see if I could tell their daily story through my camera. Without any hesitation, Connie and Philip agreed.
I have to admit that before I started the photo shoot that day, I was expecting to have some chaotic, stressful and dramatic scenes throughout the day: just the sheer work to take care of 3 kids, in addition to the enormous pressure on parents and kids under the Hong Kong education system, and on top of all that, a recently adopted boy who's not even 2 years old! But t
o my surprise, the entire day went by a lot smoother than I thought. Of course it had its little hiccups, but they just came and went!
On the day of the photo shoot, I arrived at their apartment flat at daybreak. Philip was already on his way out to work. Connie was the one holding the fort, with the help of her parents. It was quite impressive to see how
Connie got through the day so calmly and made it feel like managing the whole day's activities was so easy!
There was even one-on-one time with each kid, plus fun and quality family time together.
That day also happened to be Abby's homecoming anniversary. As their family tradition, Connie would make cakes to celebrate. So during the afternoon when Caleb was having his afternoon nap, and Abby was not home yet, Connie and Ellie made a couple homemade cakes for Abby. With a wonderful meal cooked by Philip, the family celebrated this important day when Abby joined the family. It was heartwarming to see how the family discussed Abby's adoption freely, and how Abby embraced it in such a positive way.
Throughout the day, I felt the strong bond and love within the family
. It's amazing
how quickly they, especially the girls, have accepted Caleb as part of the family, giving him the warmth, love and attention he needed. Anyone who didn't know would have thought they were just a regular family of loving parents and three adorable kids who have been there for each other ever since they were born.
And most of all, Connie and Philip has given a blood-related sister to Caleb, even though they were well aware
of the challenges ahead of them.
I adore Connie and Philip's big hearts. If only there were more people like them.
Here's the highlight of their story. Click this link for the music slideshow, with more details to their story.