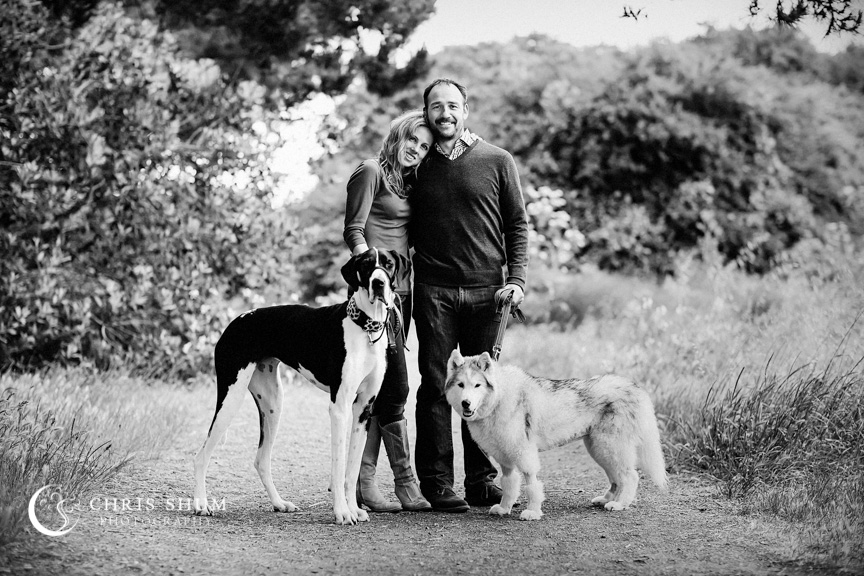 Due to unfavorable weather, it took us a few reschedules to finally meet up with our out-of-state couple, Katie and Rob, and their two huge furry babies, Luna and River, for their engagement session. Afterall, it is San Francisco, and we got the usual treat - the sky looked a bit gloomy, with a bit of fog covering Golden Gate Bridge, plus some drizzles off and on. However, it did not affect our spirit at all!
When we arrived at Marshall's Beach, River was super excited! It was just the right place for him to run and jump around! And for me, this was my first time photo shooting a big dog the size of River, young and full of energy. It was just restless and moved around so fast! I like being challenged by River, and I actually found it a lot of fun too!
The wind started to pick up quite a bit as the sun started to go down, and it was chilly. A high five to Katie for pulling through the session all the way, until she started to shiver! Luckily, Rob just knew the perfect way to warm Katie up - with the 'help' of River and Luna, Rob replayed his proposal to Katie in the same spot! That was so sweet. And this time it was caught on camera too!
As an anecdote, Luna, the sweet mellow husky, has terminal illness. It's Katie and Rob's wish that she'll be able to make to their wedding. And I surely hope to see Luna again too, but that also made me wanting to capture their best, special moments together, now.