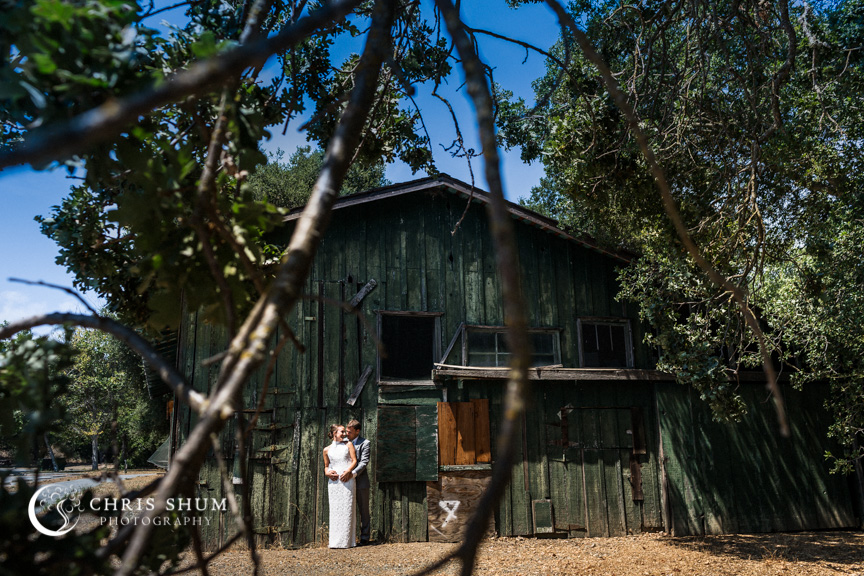 Samantha and Marcus had their eyes set on this place when they were searching their perfect wedding venue and came across the wedding blog of their coordinator, Mandy, who also had her wedding here. The Grant Ranch House has a long history, built around the late 19th century. To get here, one needs to drive up the long, windy and narrow Mt. Hamilton Road for a few miles, but the breathtaking views along the way and the serene feel of the Ranch House and its surrounding made the drive all worth it!
The couple looked gorgeous that day! Samantha's wedding dress, her hairstyle and everything made her fit perfectly in this beautiful venue. The decorations and all the little details at the venue were well attended to and gave their wedding such a vintage and rustic feel. All the guests, even the little baby, enjoyed the time there and shared the happiness of the newlywed.
This hidden gem at the foothills of Mt. Hamilton was just so pretty that Samantha and Marcus could not resist but got away a few times for some great portraits with the beautiful nature as backdrop.
I was glad that Julie,
friend of Samantha and also
my other bride whom we captured their beautiful wedding last year, referred us to Samantha. It was my great pleasure to be here to document their wonderful wedding. The couple were always so cheerful and their warm bright smiles just lit up the whole place even after dark when there were few lights there.
I sincerely wish them a marvellous journey together!
And many thanks to my wonderful buddy, Matthias, for rocking this wedding with me!