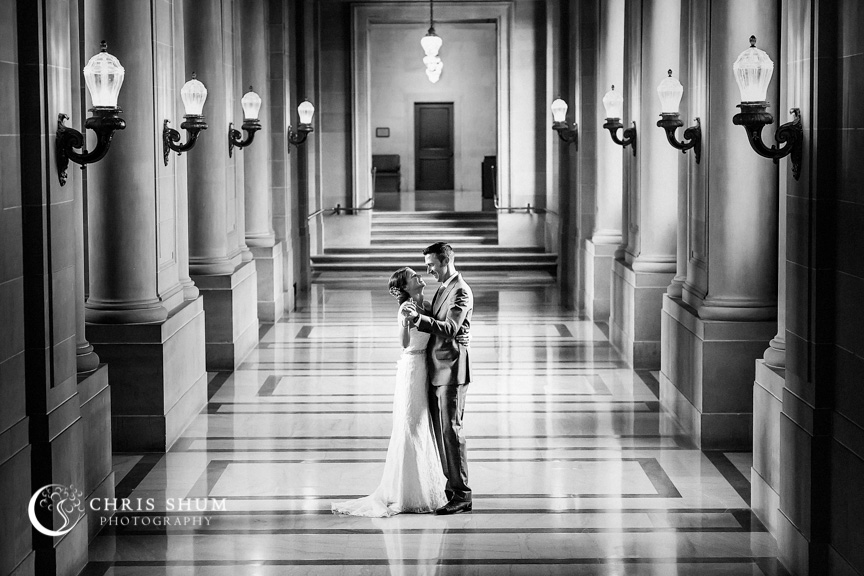 Ashley and Andy flew in from Seattle along with their close families and friends to the beautiful San Francisco for their wedding. Andy travels a lot and their wedding held in a different city from their own seemed to follow the theme. This was yet another lovely and intimate civil wedding with the entire wedding group coming in. Ashley had the day of planned out really well for Andy's and her families having a wonderful time in this scenic city while celebrating their union.
We started off from the elegant and classic Intercontinental Mark Hopkins Hotel in Nob Hill. Ashley got a nice view of San Francisco downtown from her suite. While getting ready, Ashley planned little surprise for Andy - sending him a nice gift off his Christmas wishlist - add an extra big smile to the handsome groom. But it's probably the message on the card that hit the melting point! It was a nice close ceremony in the SF City Hall, with Andy's sister Mary as their officiant. And the afternoon light that shone through the windows add some cool accent to the beautiful couple.
After the ceremony, we all hopped onto the cable car for a ride around town. It was a fun and casual ride, going through some of the main tourist spots for the iconic backdrops of SF, and everyone had a great time! Our last stop was the Fort Point Museum, and we almost got out of luck going in since the museum was closing in 15 minutes when we arrived. After some lengthy rules cited to us by the ranger at the door, we were finally allowed in to get some quick pictures. And we got some of the best lighting pictures of the day, with the gorgeous late afternoon sun and the crimson color of the fort. Ashley and Andy's wonderful day ended with the celebration at The Vestry, a very unique eatery in the beautifully restored historic building.
My heartfelt wishes to Ashley and Andy again and thanks for letting me be part of this important and memorable day of theirs!