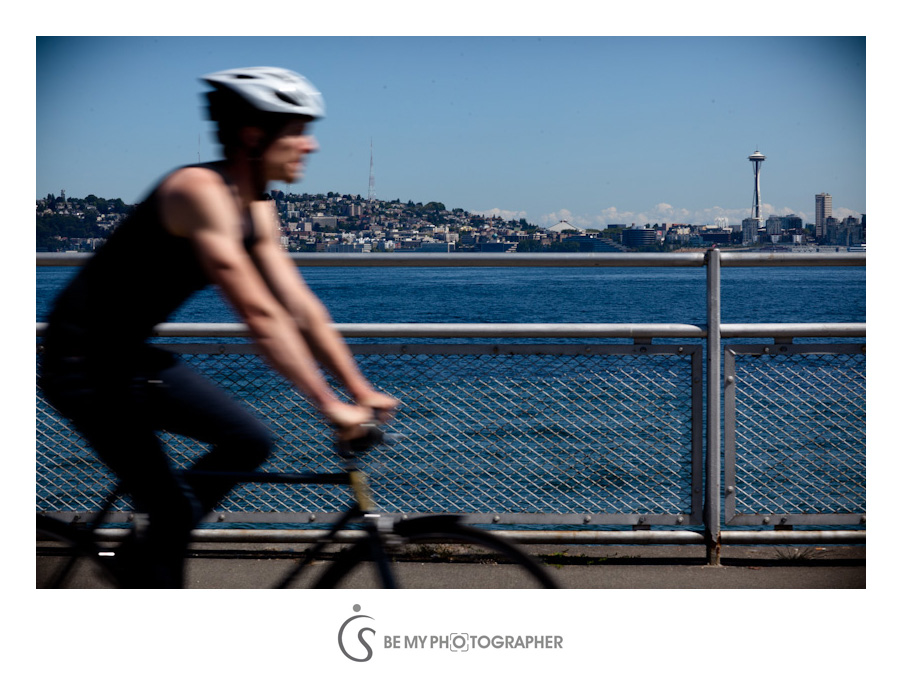 We passed by Seattle downtown before we made our way to Vancouver. The weather was super nice that day. Thanks to my friend Kim's recommendations, we first went to the other side of the bay near Alki Beach to get the view of the Space Needle and the downtown profile. It was the day before Fleet week and we heard and saw the Blue Angels flying over the city and in and out of the tall skyscrapers.
When we were heading to the downtown area, we caught sight of the familiar green/white icon at the top of a red brick building. It was the Starbucks headquarters. So we quickly made a turn to check out the place. Unfortunately to our disappointment, it was just a regular office building with a tiny Starbucks cafe on the ground floor.
It was already noon time when we slowly made our way through the downtown traffic to the Pike Place Market. But it is such a lively and fun place with so many people and things going on. The live seafood market stalls reminded me of the markets in my hometown Hong Kong. How I missed those "fishy" smell and wet grounds =)! The other thing that struck us were the variety of musicians performing on the street. We heard piano, saxophone, violin, guitar and even the Chinese instrument erhu!
We sailed along with the crowd inside the market to search for food. The market was full of fine smell and interesting food and art stores. We finally picked one with open kitchen which has a few seats in the front. The clam chowder and the seafood sandwich were super good and we felt so contended.
Our next stop was the Space Needle. Even though it was a weekday, the line was somewhat long so we decided just to walk around the vicinity, and we found the amazing architecture of the Experience Music Project museum and the Science Fiction Museum close by. There were just too many things to explore in this beautiful city with too little time we had. I can't wait to come back to visit when I have my next photo session here!