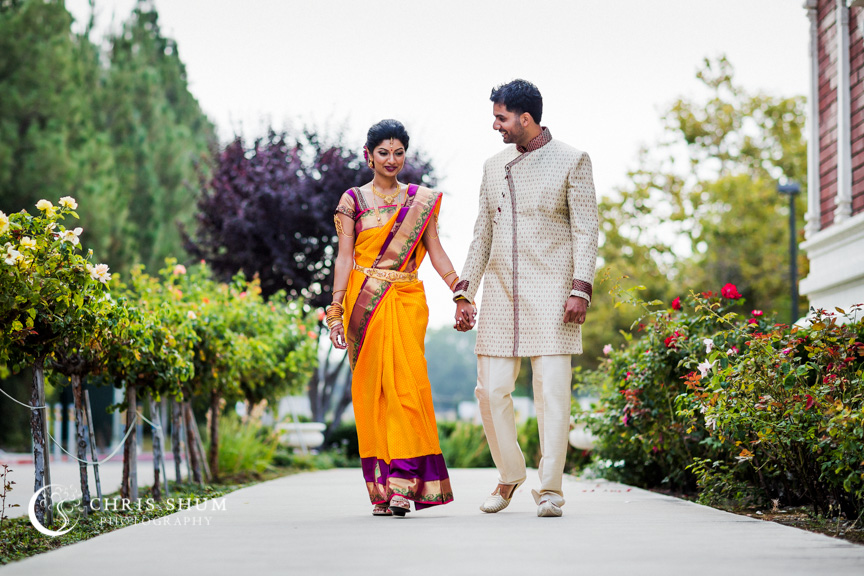 Swati grew up in the Bay Area but has then moved to New York to join Shreyas. We had our first meeting on Skype to learn about their wedding, and then we worked through a lot of the details of their wedding via email. Swati is a cheerful and upbeat person and it was fun to work with her!
The couple's big day started at the break of dawn. The morning air was already filled with festivity as I walked into the hotel room where Swati and her bridal party were getting prepared, and the vibrant colors of the wedding attires and the decorations made the room full of happiness!
The traditional Indian ceremonies took place at the beautiful Shiva-Vishnu Temple in Livermore. It was such a huge temple with some other weddings going on in different halls and crowded with guests that we almost joined a different party at one time! Although I have shot other Indian weddings, there were always something done differently and some rituals I have not come across. It's a wonderful way to learn while capturing these wonderful moments the same time!
After the series of more solemn and traditional ceremonies and rituals, the real party and celebration for the couple commenced as the bridal group and guests moved to the Bay Club. Everyone was having a great time with delicious food and some amazing dancing!
We were really honored to be there to capture these precious memories for the couple, and I wish the best for Swati and Shreyas' new journey together as they build their new life together!
Thank you for my wonderful buddy, Joseph Tan, for second shooting this wedding with me!