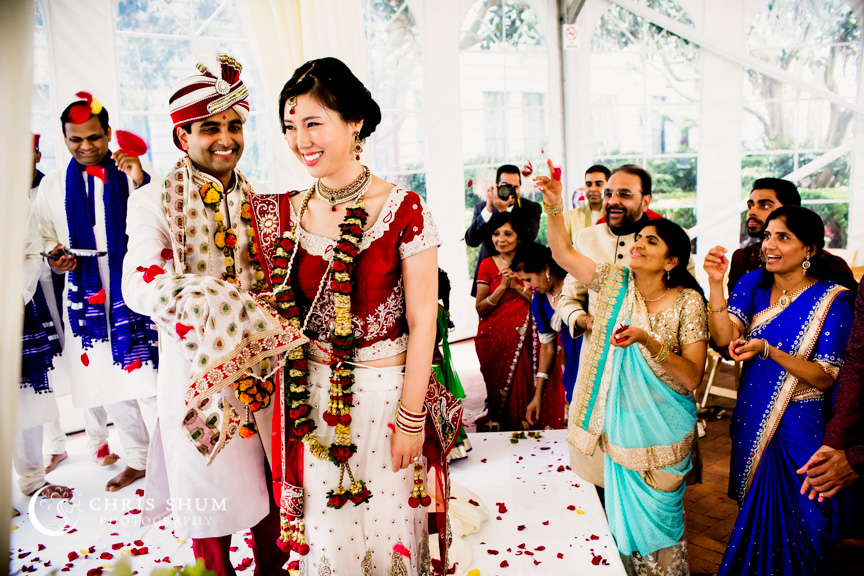 When Jean and Chirag came to our studio, Jean recognized the lady in one of our frame displays to be her old-time best friend's sister. She and her sister were also brides of our studio and our long time customers. So when the couple decided to go with us that night, I was exceptionally excited and amazed by little surprises that happen in life.
It was a very busy day for Jean and Chirag as they had 3 different wedding ceremonies on this special day! The day started off with the Indian ceremony, with a lot of festive dancing, then the Korean one, and lastly with the Western-style ceremony. Each ceremony was very unique in their own way, and the Indian and Korean cultures have very colorful costumes, and lots of details in the make-up and accessories. It was definitely a reward to see all 3 cultures and ceremonies in one day! And the best thing of all, everyone was enjoying so much and I could feel the genuine happiness written all over the couple's faces.
And as I was chatting with Chirag's dad, he told me he also loves photography and have been enjoying taking a lot of pictures of Chirag throughout these years to document his life. After hearing this, I felt even more honored and privileged that I got to document this very special and important day of Chirag and Jean, and the happy moments of the two families.
I sincerely wish Jean and Chirag a life-long of unbreakable love and laughter together!
Many thanks to Dave Donovan for rocking this wedding with me! And to the staff at Ritz Carlton who were extremely helpful!