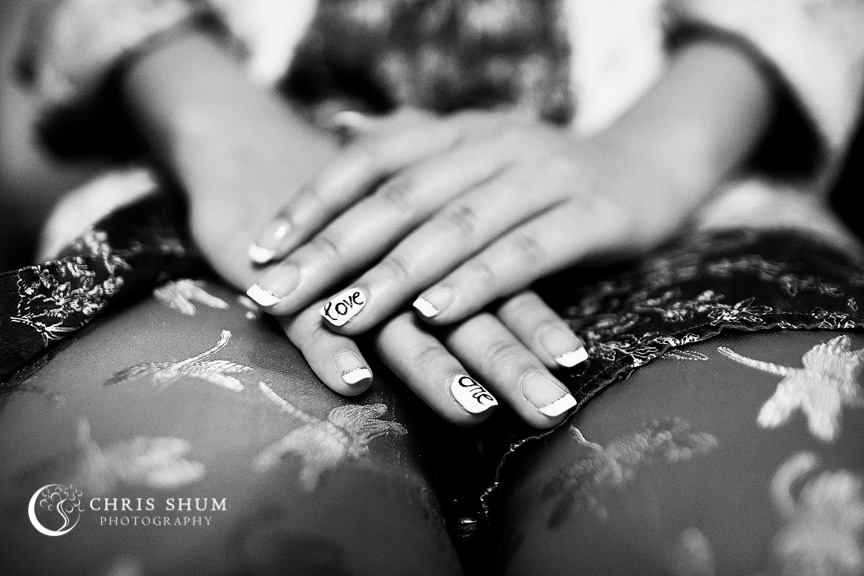 The moment I stepped into the room during the makeup session, I already felt the joy emitted by the jubilant bride. Weddings are usually action packed within limited time and the bride and groom are usually pretty stressed. But Audrey's uplifting spirit made everyone around her in a livelier mood. It was cool that Audrey put together a very special bridal party with men only!
As we were preparing for the tea ceremony at Devin's parents house, Audrey and Devin added an impromptu 'First-look' session there! Such a unique idea to incorporate the First look into the traditional Chinese Door game! And it was one cute and sweet first look of the bride! The Chinese tea ceremony was also a new and special experience for the groom's parents and grandparents.
The reception continued at the Ranch Golf Club. Led by the cheerful dancing bride and the aspiring disc-hockey groom, everyone there celebrated this happiest day with the newlywed and enjoyed themselves to the fullest.
I wish Audrey and Devin a wonderful journey together and every day forward as happy as their wedding day!
And many thanks to Joseph Tan for nailing another wedding with me!